Strategic Named Number One "2021 Best Place to Work"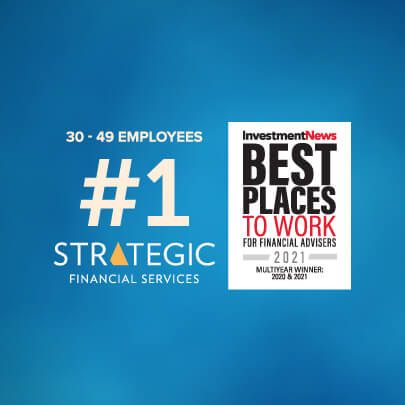 Utica, NY, March 4, 2021– Strategic Financial Services, Inc. ("Strategic"), an independent, Central New York-based wealth management firm, has been recognized by InvestmentNews as a 2021 Best Place to Work for Financial Advisers. This is the second year in a row that the firm has received this award.
Strategic was chosen on the basis of employer and employee surveys that cover a wide range of areas, including corporate culture, benefits, career opportunity and work-life balance.
"We're delighted to be recognized once again for our talented team and their level of engagement when it comes to providing an exceptional client experience," said Alan Leist, III, Strategic's CEO. "This award confirms that our people find working here fulfilling and that we're on track in upholding our three core values: 1) Serve our clients, community and each other; 2) Grow client portfolios, the business and as professionals; and 3) Live a great life and help others do the same."
According to InvestmentNews, the annual award seeks to recognize advisory firms that go beyond offering financial advisers a good salary and benefits. The publication states, "They create workplaces that empower employees with the skills and confidence necessary to deliver the best possible investment and financial planning guidance to clients. In 2021, they're also taking steps to keep employees safe during the pandemic."
Leist noted that even in this challenging year, the Strategic team has remained fully focused on "creating a future that is 10X bigger and brighter for each individual, the business and our clients." He added that the team at Strategic looks forward to continued growth together post-pandemic and in the years ahead.
In business since 1979, Strategic has 35 wealth management professionals servicing more than 1,000 clients and managing $1.6 billion in assets. Areas of focus include Investment Management, Financial Planning and Corporate Retirement Plans.
With offices in Utica, NY, Syracuse, NY and West Palm Beach, FL, Strategic is an established wealth management firm and regional leader in the investment industry. While successfully growing from established roots, it continues to expand its geographic footprint and influence across the northeast and throughout the United States.
To learn more about the InvestmentNews 2021 Best Places to Work for Financial Advisers, please go to bestplacesforadvisers.com